(Puntilla, right of lamp post)
Strike up a conversation on anything related to bata or rumba in the US or Cuba, and eventually you will come across the name "Puntilla". Orlando "Puntilla" Rios was one of the pillars of bata in the US (and arguably the "main man" in NYC), coming from Cuba in the early 80's during the Mariel boatlift. Among other Marielito's, Puntilla has played a major and defining role of how bata is learned and played in NY (and elsewhere) since. This is not to say that bata did not exist before then, countless drummers such as Gene Golden, John Amira, Markus Gordon, Pablo Landrum, Ted Holiday Sr, Baba Femi, Manny Ramos, and others were already playing and or learning bata in and around the city years before Puntilla touched down. What happened when Puntilla came was a sort of an opening of the flood gates. Puntilla came with a vast knowledge of song and toque. I don't know exactly whom his first students were but I imagine guys like Gene Golden, Flaco Hernandez, Eddie Rodriguez were probably in there at some early point. Puntilla whose drums came from Juan El Negro Raymat and Pancho Quinto, would at some point start his own house, and his own group which would be known as "La Nueva Generacion".
Spirit Rhythms - Latitudes 1996
At one point or another members of Puntilla's house included (I will have to get a more comprehensive list when I get a chance, here are a few):
Felix Sanabria
Gene Golden
Victor Jaroslov
Eddie Rodriguez
Victor Papo Sterling
Canute Bernard
Abraham Rodriguez
Pepe Calabasa
Carlos Sanchez
Olufemi Mitchell
Carlos Cordoba (?)
Daniel Ponce
Bobby Sanabria
Eddie Bobe
Puntilla's house boasted a group of very talented drummers. Alot of these drummers have actually gone on to form there own groups and some even have their own aña.
Puntilla would go on to record various albums. A rare recording titled "De La Habana A Nueva York", released in 81' is out of print and extremely hard to find. Spirit Rythms, released in 96' is another rare out of print album, but check out the link above because Amazon has a couple of copies. Totico y Sus Rumberos is a classic and rumbero favorite (sort of being in the 80's what Patato Y Totico was in the late 60's), recorded by Rene Lopez Sr in 81' or 82'.
http://www.jr.com/product/music/pm/_151610/
Puntilla worked on some Kip Hanrahan projects, When the Spirits Dance Mambo (sadly apparently out of print and extremely tough to find) and more recently on an album with the late Long John Oliva "Penalty". This is a good mix of traditional and experimental with great vocals by the late Puntilla.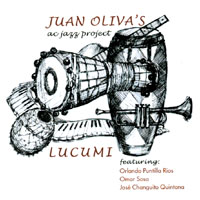 Another fairly recent recording was put out by Amma McKen, an apkwon out of Brooklyn (I believe). I have still to hear this recording but judging from the clips, it sounds great.


Probably the last great recording put out by Puntilla (actually a recording in which he was director of) was the "Homenaje a Tio Tom" recording, released by Smithsonian Folkways earlier this year. This was a very hush recording, recorded by Rene Lopez Sr, that was finally able to be released to the masses. I remember in the summer of 02' or 03', Rene pulled this recording out of a stack of cassettes and popped it in his car stereo. As we drove through the South Bronx all I could do is sit in awe as I heard the great singing by this group of rumberos. The cajon/tumbadora work by Marquito especially stood out. Ever since hearing what Rene played for me that day, I (along with few others) have been waiting patiently for its release. You can get yours at Amazon for as little as $2!!! (It almost seems a travesty its so cheap).




Puntilla left behind a slew of rumberos and bataleros not to mention family and friends. I personally never got to meet Puntilla, although I did call him once or twice to ask him to recommend a teacher. He was courteous and helpful although pretty busy at the time.


I have attached some information regarding his wake and funeral posted by Ayoka Quinones from the batadrums e group:


Please find below the going home ceremonies and arrangements BabalorisaOrlando "Puntilla" Rios, Obátilemi, Oni Sangó.
Thursday, August 14, 2008Viewing –3 pm- 9 pm
Thomas Monteria Funeral Home
1848 Westchester Ave (Near Leeland Ave)
Bronx, NY
718-824-3700
Friday, August 15, 2008Mass & Funeral- 10 am
Blessed Sacrament Church
1170 Beach Ave
Bronx, NY


If anyone has info or details they would like to add, feel free. In the next days/weeks I will try and post stories and anecdotes from people who knew, or may have played with Puntilla.


Below I have posted a pretty good article from www. elnuevoherald.com. (unfortunately only in Spanish)


Muere el celebre percusionista Orlando ''Puntilla'' Ríos

EFE
NUEVA YORK

El conocido percusionista y cantante cubano Orlando ''Puntilla'' Ríos falleció el martes en un hospital neoyorquino, dos días después de someterse a una operación de corazón, informó ayer a Efe su esposa Ileana.
''No he salido del shock desde el instante en que me lo dijeron'', comentó Ileana con voz apesadumbrada por la muerte del percusionista, quien se sometía desde hace catorce años a un tratamiento de diálisis.
''Puntilla'', de 60 años de edad, falleció el martes en el hospital Montefiori de Nueva York, donde estuvo recluido dos semanas y dos días después de ser operado del corazón.
Su esposa explicó que los restos mortales del músico serán velados a partir de mañana en la funeraria Montero, entre las calles St. Lawrence y Parchester en el condado de El Bronx, donde residía, y será sepultado el próximo viernes.
Agregó que el músico tenía siete hijos y que algunos de ellos están en Cuba, otros en Nueva York y uno más en Francia, que vendrá a la ciudad para el sepelio de su padre.
También le sobrevive su hermana Ramona, que reside en Nueva York, y que fue como una madre para él, ''siempre a su lado'', según su esposa.
La profesora y escritora Marta Moreno Vega, amiga del músico, señaló a Efe que su muerte ``es una gran pérdida''.
''El era una eminencia en términos de la historia sagrada de Cuba, un maestro del tambor batá, una eminencia en términos de la tradición lucumí, un conocedor de todo los ritmos afrocubanos'', explicó Moreno Vega, quien conocía a Ríos desde que él llegó a Nueva York procedente de Cuba.
La profesora Moreno Vega explicó que ''Puntilla'' tocó con numerosos grupos de jazz y había incluido muchos ritmos de las tradiciones sagradas afrocubanas en la música popular.
Nacido en La Habana, el 26 de diciembre de 1947, ''Puntilla'' era considerado, tanto en su país como en América, un maestro en los diferentes estilos de la música cubana.
Antes de instalarse en Nueva York, Ríos fue profesor de percusión en la Escuela Nacional de Arte de Cuba entre 1971 y 1978. Actuó en las salas más famosas de La Habana, como Tropicana y el hotel Havana Riviera. En Nueva York se convirtió en maestro y mentor de gran número de músicos importantes del momento.
check out for more info:
http://esquinarumbera.blogspot.com/
http://fidelseyeglasses.blogspot.com/